Invented by scientists from the Laboratoire d'Électrochimie Moléculaire (LEM-Université Paris Diderot), Damien Marchal and Benoit Limoges, DetScan™ is protected by several patents. Based on electrochemistry, it allows a non-optical and parallelised detection of biological molecules (DNA, RNA and proteins).
As many approaches in the biosensor field, DetScan™ technology has the particularity to gather all the advantages of the electronic industry in terms of robustness, cost and miniaturization potential.
Principle of DetScan™
DetScan™ technology is based on a measurement of the interaction between an electrochemical binding probe and a biological molecule.
Technology Principle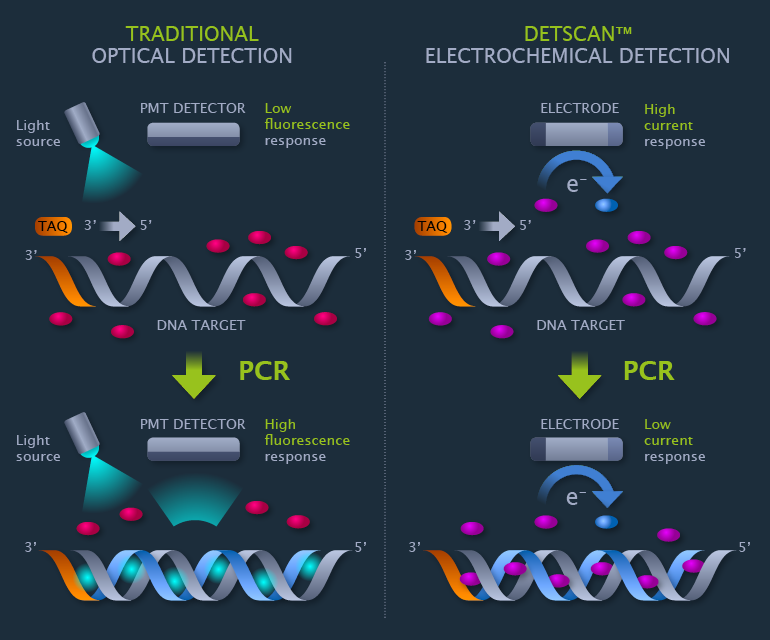 Applications
DetScan™ could be considered as a generic technology which allows the development of several applications in detection, analysis and quantification of a biological molecule in a sample.
DetScan™ technology was for the first time described in 2006 for a non-optical real-time PCR experiment using cyclic voltammetry. Since this proof of principle, it has been optimised and adapted to several and daily used applications in molecular biology.
Electrochemical Real-Time PCR experiments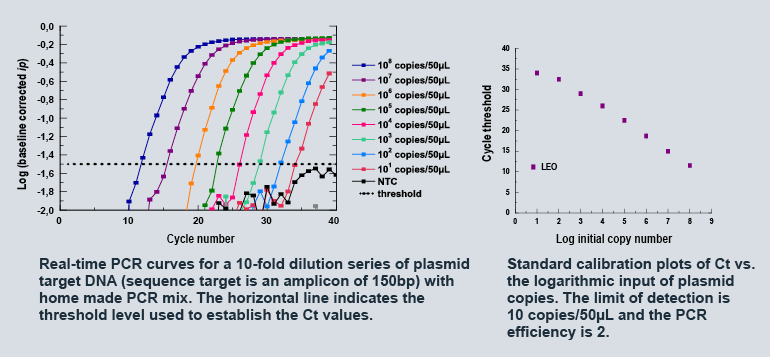 Electrochemical melt curves
Genotyping experiment

Isothermal amplification experiment

Expand beyond boundaries
Electrochemistry used for biological molecules detection is an open gate to new applications.
Robustness, miniaturization and low cost procedures are key criteria favoured by new players such as the Diagnostic and the Agro-food industries.
In the PCR field, DetScan™ and Leo will lure new users to PCR.
References
Real-Time Electrochemical Monitoring of Isothermal Helicase-Dependent Amplification of Nucleic Acids, F. Kivlehan, F. Mavré, L. Talini, B. Limoges, D. Marchal. Analyst, 2011, 136, 3635-3642
Real-Time Electrochemical PCR with a DNA Intercalating Redox Probe, T. Deféver, M. Druet, D. Evrard, D. Marchal, B. Limoges.
Anal. Chem., 2011 83 (5), 1815-1821
Real-Time Electrochemical Monitoring of the Polymerase Chain Reaction by Mediated Redox Catalysis, T. Deféver, M. Druet, M. Rochelet-Dequaire, M. Joannes, C. Grossiord, B. Limoges, D. Marchal.
J. Am. Chem. Soc., 2009, 131 (32), 11433–11441